For students interested in applying for the 2017/2018 Honors program, we will hold an Information Session on Wednesday, May 17th. Time and Place TBA.
The Application deadline for Honors 2017-2018 is
Monday, July 17, 2017.
The Sociology Honors Program is an academically rigorous program, designed for students who want closer intellectual contact with faculty, as well as students who are interested in graduate work in sociology or related professional fields.  Over the course of the year, the program creates a cohort experience for participants through shared coursework and training and builds a community of undergraduate scholars.
Honors curriculum trains students to design and execute their own research through small seminars, independent study with faculty, and an Honors statistics course. The Honors year culminates in students' presentations of their Senior Thesis projects in Spring quarter at the Undergraduate Symposium in Mary Gates Hall as well as at the Sociology Department's Undergraduate Symposium, sponsored by AKD.
Successful graduates of the Sociology Honors Program are awarded a "Bachelor of Arts with Honors in Sociology."  Students who complete both Interdisciplinary Honors and Departmental Honors are awarded a "Bachelor of Arts with College Honors in Sociology."
The Department's Honors Faculty Director is Professor Hedwig (Hedy) Lee, directing her fourth Honors Cohort in the 2016/17 academic year.
Admission Requirements
Acceptance into the Sociology major
Minimum cumulative GPA of 3.50 in all UW Sociology courses
Minimum cumulative UW GPA of 3.30
2017-2018 Honors Program Requirements
The program is designed to run from autumn quarter through spring quarter of the senior year. Students must complete the following requirements to graduate with Honors:
SOC 496-497, Honors Senior Seminar
This two-quarter sequence, taught by the Honors Director, will cover advanced theory and study design in preparation for the Honors Thesis. Autumn 2017 - Winter 2018
SOC 321, Honors Statistics
Autumn 2017
Successful completion of the Honors Thesis
Students will register for SOC 495 (Honors Senior Thesis) under the supervision of an individual faculty mentor with expertise in the relevant area of interest. Spring 2018
Sociology GPA of at least 3.50 and UW GPA of at least 3.30 at graduation
Honors students complete at least 60 Sociology credits (rather than 50 for the regular major)
Applying to the Sociology Honors Program
Prospective students should apply to the Honors Program in the spring/summer quarter of their junior year. To download the 2017-2018 documents follow these links:
2017-2018 Honors Program Summary, a print-friendly version of information
2017-2018 Application Form and Instructions
A completed application will include the application form, a statement of purpose, a writing sample, and an unofficial transcript. More details are found in the Program Summary document above.
NOTE: The Application deadline for Honors 2017-2018 is Monday, July 17, 2017.
The 2016-2017 Honors Cohort
Justace Buhl Brennan, Amy Christison, Adel Clifton, Lauren Halle, Havana McElvaine, Kathryn Reynolds, Rachel Sanders, and Justin Traughber.
The 2016/17 Honors Students will be presenting their research at the Undergraduate Symposium on Friday May 19th, 2017 and at the Sociology Department's Undergraduate Symposium on Wednesday May 24th, 2017. Students who are considering applying for Sociology Honors Program in the 2017/2018 academic year are strongly encouraged to attend both these events.
The 2015-2016 Honors Cohort

Eliseo Banda-Gonzalez: "Journey of a Dreamer: Perspectives from the College Experiences of Undocumented University Students." Faculty mentor: Alexes Harris.
Kasey Boettcher: "An Examination of Trends in Female Gender Stereotype Portrayals in Top Rated PC and Console Games: 1996-2015." Faculty mentor: Kate Stovel.
Claudia Godina: "Measuring the Wellbeing of Immigrants in Undocumented Communities in the United States." Faculty mentor: Kyle Crowder.
Crystal Kim: "Virtual Ethnographic Analysis of Online Portrayal of Eating Disorders." Faculty mentor: Emilio Zagheni.
Victor Morales: "#__________ LivesMatter: A Content Analysis of Racial Discourse Via Twitter." Faculty mentor: Emma Spiro.
Ferdinand Orbino: "SHOTS FIRED! Socio-Structural Context and Mass Shootings in the U.S." Faculty mentor: Stew Tolnay.
Kaid Ray-Tipton: "Latent Affects of Cannabis Legislation: Racial Disproportionality and Disparity in Washington State Drug Convictions. 2000-2015." Faculty mentor: Alexes Harris.
Andrea Rocha: "Navigating Sustainable Practice: Attitudes, Behavior, and Social Influences in Emerald City." Faculty mentor: Kara Dillard.
Laura Vawter: "What Do I Know About What's Good for the Country? An Investigation of How Non-Voters from Different Backgrounds Understand their Place in Politics." Faculty mentor: Sarah Quinn.
The 2014-2015 Honors Cohort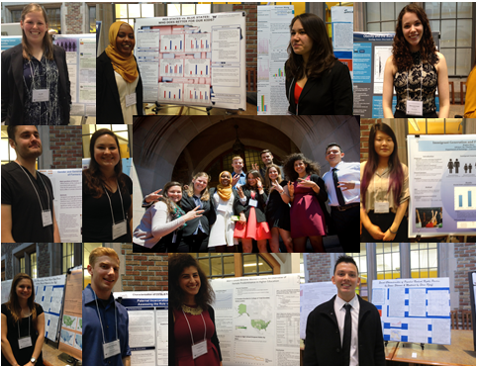 Zoe Bill: YesAllWomen: "The Leadership Structure of an Online Social Movement." Faculty mentors: Emma Spiro and Emilio Zagheni.
Olivia Godsil: "Exploring the Association between Obesity and the Built Environment."  Faculty mentor: Sara Curran.
Ferdose Idris: "Red States vs. Blue States: Who Does Better for Our Kids?" Faculty mentor: Stew Tolnay.
Farida Matta: "Men's Losses Come to Be Women's Gains: An Overview of Female Predominance in Higher Education." Faculty mentor: Julie Brines.
Andrew McMartin: "Paternal Incarceration and Adolescent Delinquency: Assessing the Moderating Role of Neighborhood Social Capital." Faculty mentor: Kyle Crowder.
Mark Noel: "Gender and Generation: A Comparative Analysis of Farmers in Washington State." Faculty mentor: Kate Stovel.
Katherine Raffa: "Social Construction of Attention Deficit Hyperactivity Disorder." Faculty mentors: Jerry Herting and Hedy Lee.
James Sharma: "Social Characteristics of Populist Radical Right Voters in Greece."  Faculty mentor: Steve Pfaff.
Regina Shaw: "Immigrant Generation and Feeling 'In Control'." Faculty mentor: Charles Hirschman.
Shannon Wong: "The Increasing Effects of Incarceration on Poverty Rates in the U.S." Faculty mentor: Jake Rosenfeld.
Maggie Yuse: "The Role of Mental Illness in Police Stops and Arrests." Faculty mentor: Jerry Herting.
---
Page Last Updated 10/2016.